Running a strong capital campaign for a nonprofit requires careful planning, effective execution, and strong donor engagement. Here are some essential tips to ensure the success of your capital campaign: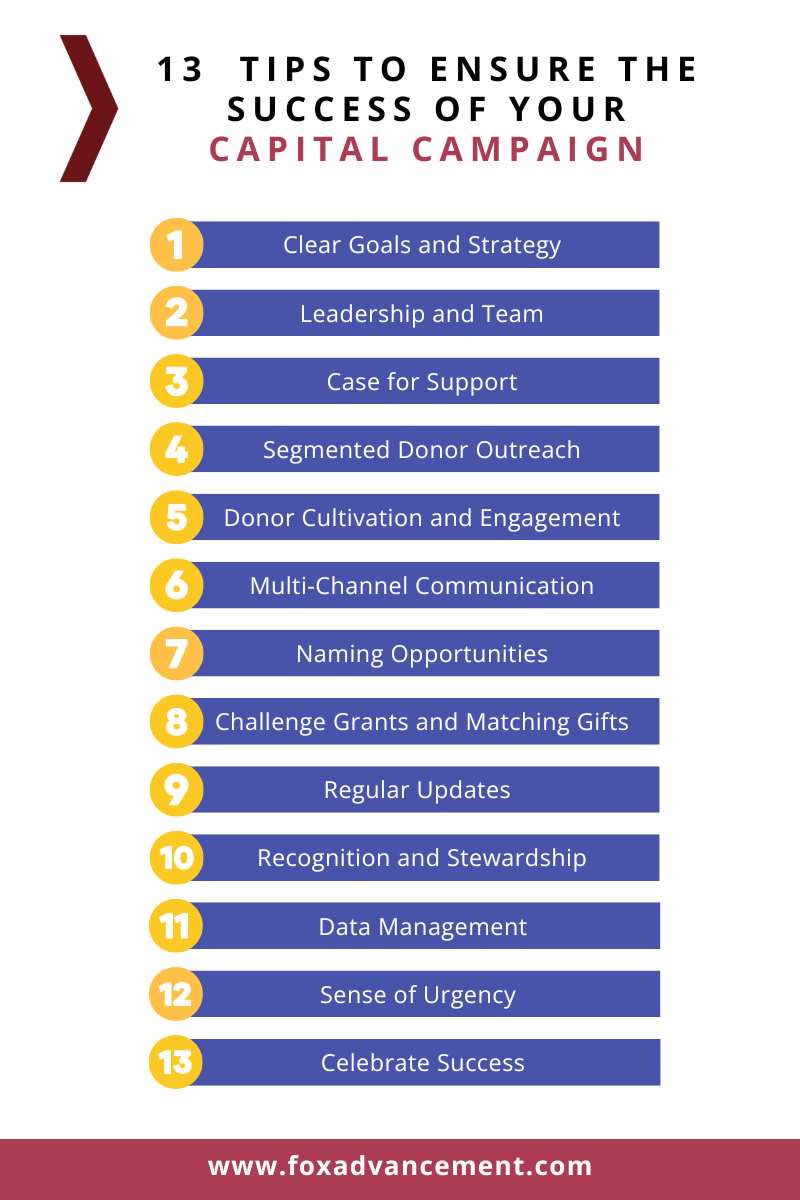 Clear Goals and Strategy: Define specific, achievable goals for your campaign. Determine how much funding you need, what the funds will be used for, and create a comprehensive strategy outlining the steps to achieve those goals.
Leadership and Team: Assemble a capable campaign team with a mix of staff, board members, and volunteers. Appoint a campaign chair or co-chairs who are well-connected and passionate about the cause.
Case for Support: Develop a compelling case for support that clearly articulates the need for the capital project and the impact it will have on your organization and community. This should resonate with donors and inspire them to contribute.
Segmented Donor Outreach: Divide your donor base into segments based on their giving capacity and engagement level. Tailor your communication and ask strategies for each segment to ensure a more personalized approach.
Donor Cultivation and Engagement: Build relationships with potential donors well before the campaign launches. Engage them through events, tours, meetings, and personalized communications to create a sense of involvement and investment.
Multi-Channel Communication: Utilize various communication channels such as social media, email, direct mail, and in-person meetings to keep donors informed about the campaign's progress and impact.
Naming Opportunities: Offer naming opportunities for various aspects of the capital project. Donors often appreciate the chance to leave a lasting legacy in exchange for their contribution.
Challenge Grants and Matching Gifts: Encourage giving by securing challenge grants or matching gift commitments from major donors or foundations. These can incentivize others to donate as well.
Regular Updates: Keep donors updated on the campaign's progress. Highlight milestones, share success stories, and express gratitude for their support. Transparency builds trust.
Recognition and Stewardship: Acknowledge and recognize donors at different giving levels. Implement a robust stewardship plan to ensure that donors feel appreciated and informed about the impact of their contribution.
Data Management: Maintain accurate donor records and track campaign progress. This helps you analyze trends, adjust strategies if necessary, and ensure that donors are properly acknowledged.
Sense of Urgency: Create a sense of urgency by setting campaign deadlines or milestones. Limited-time opportunities can motivate donors to act promptly.
Celebrate Success: When the campaign reaches its goal, celebrate the achievement with donors, volunteers, and stakeholders. Share the impact of their contributions and thank them for their support.
Remember that a successful capital campaign takes time, effort, and strong collaboration. By following these tips and maintaining a donor-centric approach, you can build a strong foundation for your nonprofit's future growth and impact.
Ready to take your capital campaign to new heights? Whether you're a newcomer or seeking to fine-tune your strategy, we've built a process that helps to envision, test, and implement your campaign.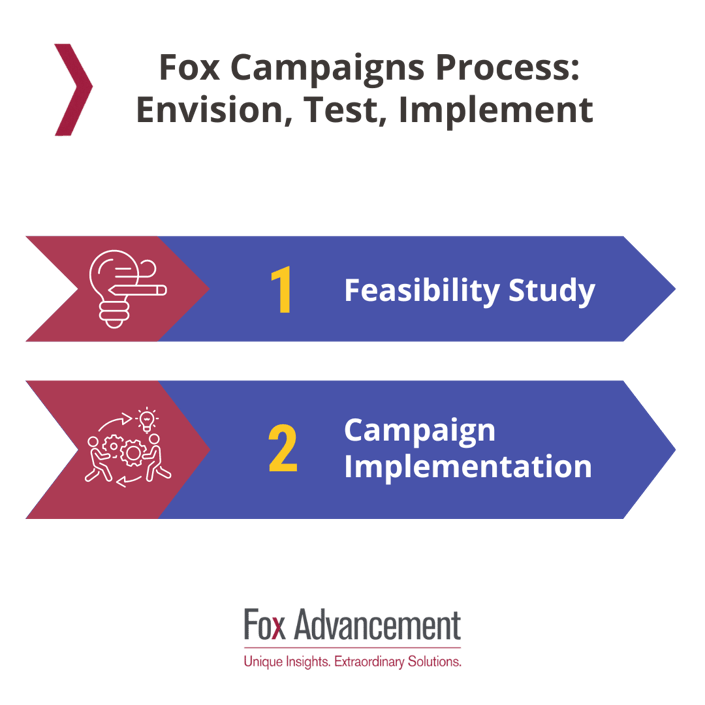 Feasibility Study: Jumping off after your vision is defined, we test a fundraising goal with prospective individual donors, corporations, and foundations.
Campaign Implementation: Once a realistic fundraising goal has been confirmed through the feasibility study, it's time to get to work! Fox Advancement can guide the strategy and key activities of your campaign, ensuring activities happen on time and with integrity.
Whether you're a seasoned campaigner or just beginning your fundraising journey, there's always room to refine and innovate. Stay open to new ideas, adapt to changing landscapes, and, most importantly, keep the focus on your mission.
We hope you've found these insights valuable, and we're here to support you every step of the way. Your success is our success, and together, we can build a brighter future for your nonprofit.