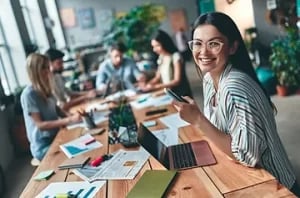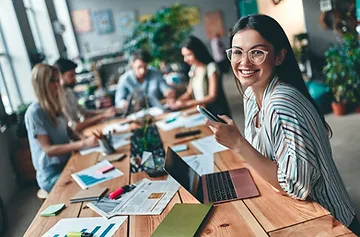 This month we feature two new clients who transform our communities both locally and nationally: Union Gospel Mission and Association of Women's Business Centers.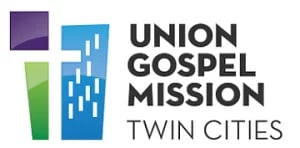 Union Gospel Mission was launched in 1902 as an outreach by Saint Paul (Minnesota) area churches to assist dockhands, farm laborers, miners, and others flooding into the city at the turn of the century. Almost 100 staff and over 4,300 volunteers now help hungry, hurting, homeless, and addicted people find wholeness through the transforming power of the Gospel. Programming includes wraparound services, emergency hot meals, and safe, clean cots, bunk beds, and single bed short- and longer-term housing. Wraparound services are customized to everyone's needs. Men's late-stage alcohol and drug recovery programming includes a residential and Four-Phase curriculum that can be completed in up to two years or more.
Over 12,000 meals are served each month to homeless men alone. Additional daily meals are delivered to women and children in a downtown Saint Paul shelter location where single women as well as mothers with up to four children find sanctuary and hope through case management, chaplaincy, and a broad range of classes. Preschool children living in the Naomi Family shelter attend a separate Child Development Center, and older children attend public schools.
Over a thousand homeless men, women, and children benefit each year from extensive mental health testing, cognitive assessments, and counseling by professional practitioners and college interns enrolled in graduate school social work and psychology programs. A separate Adult Education & Vocational Training program helps residents to brush up on basic English, math, computer, workplace, and life skills while preparing for independent living. Social worker and veteran referrals are also available, in addition to physical exams, medications, immunizations, and eye and foot care. Aftercare is embedded in each program; it includes support for those seeking reunification with family members, job success, and ongoing collaboration with AA and church support networks of their choice.


In 1988, Congress passed the The Women's Business Ownership Act creating a new Women's Business Center program to be administered by the United States Small Business Administration (SBA). Today, there are 146 Women's Business Centers (WBC) supported by the Association of Women's Business Centers (AWBC), a national non-profit organization that works to secure economic justice and entrepreneurial opportunities for women through this national network. You can find a WBC by visiting their site at: AWBC.
Fox Advancement was pleased to conduct a Vision Impact Alignment assessment to identify areas that could position AWBC for a growth trajectory leading to a stronger and more sustainable organization. The four areas that emerged as important for AWBC to pursue in the future include:
A continued emphasis on local, state and federal advocacy for women entrepreneurs;
The development of an infrastructure to promote and support growth;
Creation of standards, that when implemented, will lead to a unified WBC network; and,
A cadre of network-wide subject matter experts focused on issues related to women's business and entrepreneurship leadership.
With a presence in all 50 states plus Puerto Rico, these recommendations will lead to a stronger and more vibrant organization. By 2027, the Association of Women's Business Centers is poised to be the nation's premier organization providing the standards, tools, and resources that women need to become the hub of economic power as entrepreneurs in their communities.