The Nature Conservancy Director of Philanthropy for MN-ND-SD
Interviewed by Whitney Anderson
Describe your role with The Nature Conservancy. Why are you passionate about TNC's work?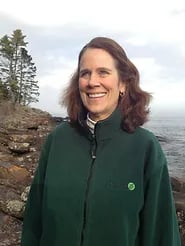 I'm the Director of Philanthropy for our MN-ND-SD Nature Conservancy chapter. I've always loved the wondrous diversity of plants and animals in natural areas. So I'm passionate about how The Nature Conservancy protects nature for nature and people. In addition, the Conservancy's work can play a vital role in combating climate change, which I believe is the greatest challenge facing our planet. Protected and restored forests, grasslands and other natural areas absorb and store significant carbon and offer so many other benefits.
How long have you worked with Fox Advancement, and in what capacity? What do you appreciate about your partnership with Fox Advancement?
We hired Fox Advancement in 2016 to do the feasibility study for a campaign. We were impressed by their work and hired them as campaign counsel. Rather than increase our staff for the campaign, we've had Whitney Anderson from Fox work very closely with us and she has been invaluable.
What do you enjoy most about fundraising? What is an example of a fundraising challenge you've faced, and how did you overcome it?
I enjoy the combination of working for organizations with great missions and working with wonderful donors who help make the missions happen. Our last campaign started in strong economic times with a very aggressive goal. Then the Great Recession hit. I realized our goal was unrealistic but I worried about reducing it. We assembled a group of community leaders, some involved with The Nature Conservancy and some not. We asked for their advice. They strongly recommended reducing the goal because 1) we were in the quiet phase of the campaign 2) the recession and 3) no one but staff really remembers the initial goal! We set a new goal and went on to blow way past it. Ironically, this experience could be relevant for campaigns in today's times.
What is a particularly memorable interaction you've had with a donor, board member, or volunteer?
Oh my gosh, which one do I choose?? That's one of the terrific aspects of being a fundraiser. OK, I have a fun story about connecting with a Nature Conservancy member. I learned from a friend that the member recently moved to the Twin Cities and we would be fortunate to have her on our board. I tried to connect with her for months but her life was extremely busy. Well, I was on a ferry returning from our cottage and I spotted her on the ferry. I put on my Nature Conservancy cap, strode over, introduced myself and we had a great chat. She became one of our best supporters plus a delightful friend.
On a personal note: Describe your perfect day from beginning to end!
First, let's make the day post pandemic and I'd be on vacation at our cottage on Lake Superior. The day would start after breakfast with a long hike with friends and dogs. The rest of the day would include reading, kayaking and biking to a friend's cabin. The finale would be a group dinner on our porch watching the sunset.
If you're interested in working with Fox Advancement for your grant and/or capital campaign management needs, please reach out to us!