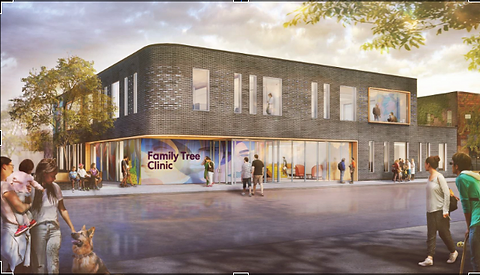 Fox Advancement is proud to partner with Family Tree Clinic, a reproductive and sexual health education center and medical clinic in Saint Paul that serves communities often overlooked by major medical systems: 60% of program participants identify as LGBTQ, 35% are trans/gender non-conforming, 50% are people of color, and 70% meet the federal definition of living in poverty.
Family Tree is building a new sexual health and education center near the corner of Franklin and Nicollet Avenues, and the organization will relocate to Minneapolis in November of 2021. This new facility will help to address the waiting lists for some services, boosting capacity to serve 33,000 people each year, a 30% increase over their current location. See below for a rendering of the new clinic, and visit www.powertobuild.org to learn more and support Family Tree!
Family Tree's impact is best told by patients themselves. A patient recently submitted these comments after a visit to the clinic: "I recently had a routine visit to Family Tree… Not only did I feel physically well taken care of, but also emotionally cared for. Family Tree leaders, as a St. Paul person, I've been proud to have you so close. But as you plan your move to Minneapolis, I'm happy for all your new prospective clients, and of course I'll continue to visit you after your move. You're doing an amazing job. Thank you."
Thank you, Family Tree, for your commitment to person-centered, dignified, hopeful, and affirming care!