Highlighting Keystone Community Services
Written by Natasha Freimark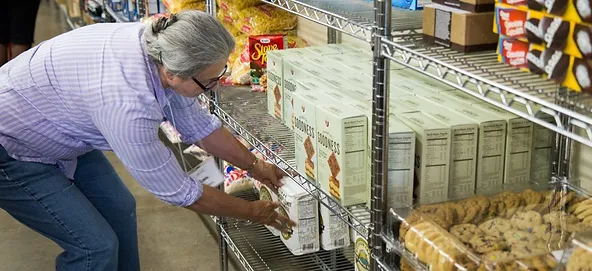 Pinch us! We are grateful every day that we have the privilege of working with incredible nonprofit organizations that make a huge impact in our community. One of these extraordinary clients is Keystone Community Services, whose mission is to strengthen the capacity of individuals and families to improve their quality of life. The organization provides vital community-based services for individuals, families, seniors and youth, with a commitment to serving people with the greatest needs in Ramsey County.
Founded in 1939, Keystone began as a small neighborhood community center. Last year, Keystone provided support for more than 37,000 community members through a variety of crucial services and programming, including two food shelves, a Foodmobile (a mobile food shelf), Meals on Wheels, a wide array of active senior programs and case management services, and a rich and extensive set of youth services. Keystone is the largest food shelf provider in the East Metro.
In 2019, Keystone impacted the community in powerful ways:
-2,500 people volunteered at Keystone, collectively contributing more than 33,000 hours to support programs and people
-2.4 million pounds of food (=166,080 bags of groceries) was distributed through the food shelf programs
-23,038 healthy Meals on Wheels were distributed to seniors
– More than 3,000 low-income seniors were supported with programs that help them live in the community with dignity and connection
-11 teens completed 6-week technology internships through Keystone's Career Pathways Program and an additional 33 teens, who face barriers to accessing training and employment opportunities, participated in youth employment programs
-215 children gained critical academic skills through vibrant afterschool programs
The organization truly lives up to its name. A keystone is the central wedge-shaped stone of an arch that locks the parts together and supports the whole. Keystone does this every day for our community, offering critical services and being a trusted place that neighbors can turn to when they need support or connection.
And the community is in need of Keystone's help now more than ever. With the
COVID-19 pandemic, recession and civil unrest, Keystone has not shied away from the challenges, rather, they have stepped up to be a leader on the front lines.
By providing a crucial safety net for community members, Keystone Community Services exemplifies Minnesota's generous spirit by serving those most in need. To support this wonderful organization, you can donate here: www.keystoneservices.org.